KDevelop: Seeking maintainer for Ruby language support
Heya,
just a short heads-up that KDevelop is seeking for a new maintainer for the Ruby language support. Miquel Sabaté did an amazing job maintaining the plugin in the recent years, but would like to step down as maintainer because he's lacking time to continue looking after it.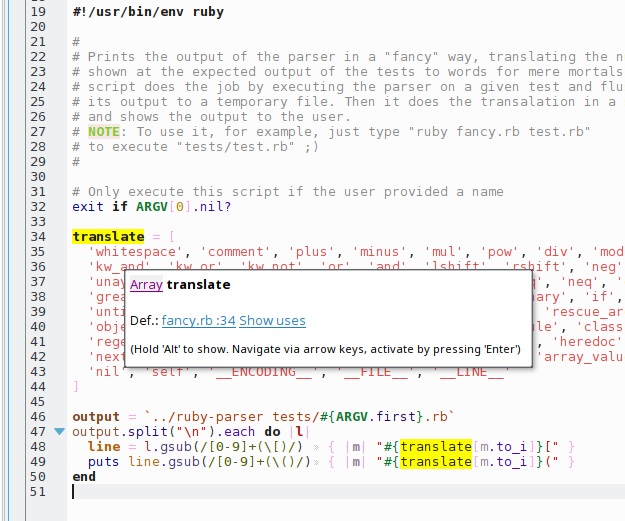 Here's an excerpt from a mail Miquel kindly provided, to make it easier for newcomers to follow-up on his work in kdev-ruby:
As you might know the development of kdev-ruby has stalled and the KDevelop team is
looking for developers that want to work with it. The plugin is still considered
experimental and that's because there is still plenty of work to be done. What has been
done so far:
The parser is based on the one that can be found on MRI. That being said, it's based on an old version of it so you might want to update it.
The DUChain code is mostly done but it's not stable yet, so there's quite some work to be done on this front too.
Code completion mostly works but it's quite basic.
Ruby on Rails navigation is done and works.
There is a lot of work to be done and I'm honestly skeptical whether this approach will end up working anyways. Because of this skepticism and the fact that I was using another editor, I ended up abandoning the project and thus kdev-ruby was no longer maintained by anyone.
If you feel that you can take the challenge and you want to contribute to kdev-ruby, please reach out to the KDevelop team. They are extremely friendly and will guide you on the process of developing this plugin.
Again, thanks for all your work Miquel, you will be missed!
If you're interested in that kind of KDevelop plugin development, please get in touch with us!
More information about kdev-ruby here: https://community.kde.org/KDevelop/Ruby